Bombay Style Potatoes (Jamie Oliver's Recipe)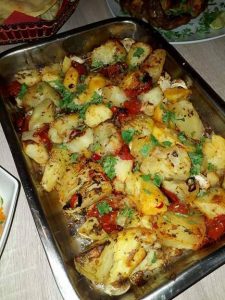 This is the way to  cook fast a gorgeous recipe with a sauce that is specific to Indian cuisine. Although it has it's roots in Indian cuisine, it can be found in the British one as well.

Ingredients :
800 g new potatoes

sea salt

ground pepper (spices)


1 lemon

2-3 tablespoons olive oil

one heaped teaspoon black mustard seeds (you can use yellow as well)

one  heaped teaspoon cumin seeds

1 heaped teaspoon garam masala

1 heaped teaspoon turmeric

one bulb garlic

1 fresh red chilli , deseeded and finely sliced (you can leave the seeds if you like the heat)

2 tomatoes , roughly chopped

1 small bunch fresh coriander (you can use parsley instead)

There are several spices used in this recipe.
 Instructions:
Preheat the oven to 200°C/400°F/gas 6. Halve any larger potatoes, then parboil them in a large pan of salted boiling water with a whole lemon for about 15 to 20 minutes, or until the potatoes are cooked through. Drain the potatoes then let them steam dry. Discard the lemon unless you are cooking a roasted chicken as well.
Put a sturdy roasting tray over a medium heat and add the following mixed ingredients : olive oil, the mustard and cumin seeds, garam masala spices and turmeric spices – work quickly because if the fat gets too hot the mustard seeds will pop everywhere. Halve a bulb of garlic and add it straight to the pan, with the sliced chilli and chopped tomatoes. Add your drained potatoes to the tray, blend everything together, then season well. Finely slice and scatter in the coriander stalks, and keep the leaves in a bowl of water for later. Put the potatoes in the oven for approximately 40 min (more or less – keep an eye on them!). They should be done. It depends on the level of crunchiness you prefer. You should obtain a nice spicy blended sauce.

Get your potatoes out of the oven and put them into a serving bowl. Sprinkle the reserved coriander leaves over the sizzling roasties and serve with any condiments you like. Life doesn't get much better.
Prep time: 20 min
Total time: Between 1 h and 1h, 20 min
Notes:
Serve with Yogurt, Wedged Lemons, Poppadoms, Crunchy Salad (iceberg salad, ribbons of carrots, lime juice, olive oil, salt and pepper) and pickles of your choice.
If you have any leftovers although we highly doubt it, you can reheat them in the microwave so they are ready to go.
If you don't like the idea of the microwave you can always reheat them in the oven.

Some chefs prefer to use also cinnamon or cardamom which you can find in any spices store where you can buy also the masala indian type.
Tip: You could serve these with roasted turkey as well. 😉 Garam Masala Recipe Sauce Made Flavor

We recommend a nice song while eating it.
Hanine – Arabia
[embedyt] https://www.youtube.com/watch?v=ICUb7y1QCXs[/embedyt]
Enjoy! 🙂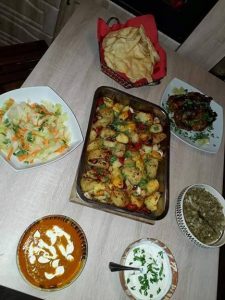 You can also try the original recipe from Jamie Oliver, see it here
If you like our Bombay Style Potatoes recipe, please share our website on social media.
Save
Save
Save
Save
Save
Save